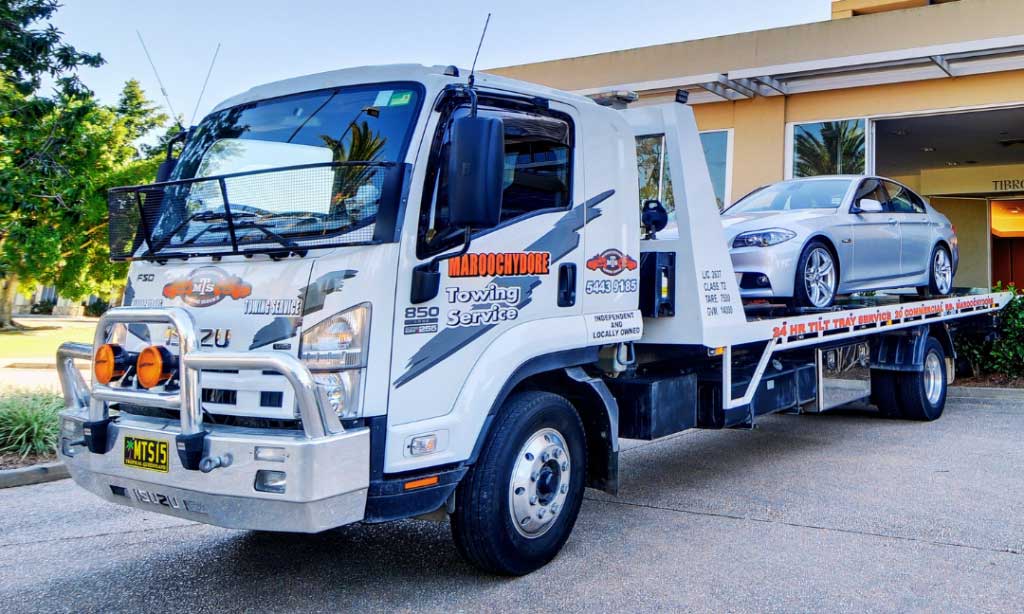 Maroochydore Towing Service

Sunshine Coasts TRUSTED TOWING Professionals for over 25 years – 24 Hours, 7 Days
Towing & Recovery Transport Specialists covering the Sunshine Coast, Brisbane and Major Queensland areas
Competitive lowest rates. Pensioner discounts.
Call our Friendly Team now on  0419 710 265
Fast, Reliable and Affordable Towing 24/7
Call us anytime for the best solution for all your local towing needs on (07) 5443 9185.
Accident towing
Fast and reliable accident towing service which can be billed directly to your insurance company, so there's no out of pocket expense. FREE "after-accident" advice. We make it easy to move you and your car from the accident ASAP.
With secure storage locally so you can trust that your vehicle is always safe with us.
courtesy vehicle may be available* (*Conditions apply).
breakdown towing
Supporting you and your family, or your business, with stress-free roadside and break down towing for motorbikes, cars, caravans, boats, and trucks.
Let us move you and your vehicle quickly and safely, at an affordable price.
24 Hour towing
Serving the Sunshine Coast and surrounding any time day or night, we are the local towing business you can trust. Delivering professional, affordable, and reliable towing 24/7 across the Sunshine Coast and beyond.
If we can fit it on our tilt tray trucks, we can move it – at a time that suits you.

We're here for you 24/7
As a trusted, local, family owned and operated towing service on the Sunshine Coast since 1994, we understand that when you need us, it's important we provide you a FAST, RELIABLE and AFFORDABLE service.
Payments are simple and we work with your insurance companies to bill them directly. We can accept payments over the phone or roadside with EFTPOS or cash.
---
More Towing Services
We provide towing solutions for all of your transport needs. If it can be moved and it fits on a Tilt Tray Truck you can be sure that we help you today at the best price. Call to discuss all your local towing needs on 5443-9185.
Classic CArs – Specialist transport
Specialising in classic cars, from showroom worthy models to shells and anything in between. We know how to provide specialist transport to your pride and joy.
CARAVAN Towing
Whether your caravan needs relocating under tow or on a tilt tray we can move it safely and affordably at a time that suits you. Let us get you moving again today with reliable, affordable caravan transport.
Boat towing
If your boat needs transport we have you covered. We understand that if your vehicle or trailer fails roadside you need to move your boat as quickly and safely as possible – we provide this service day or night.
Great service for 25 years…
Our team are committed to providing you with the BEST personal service at a great price with genuine value, advice and care… and what's awesome is our customers think so too. ⭐️ ⭐️ ⭐️ ⭐️⭐️
*
⭐️⭐️⭐️⭐️⭐️ My partner needed their car towed to the mechanics after a breakdown. Steve was not only the most affordable by far, he was also super efficient, schedule friendly, and took the car away on a tilt truck with a near minimal fuss. Very professional, stoked with the service all round. Would definitely use again and would recommend him in a heartbeat!
⭐️⭐️⭐️⭐️⭐️ Arrived on time , good price
⭐️ ⭐️ ⭐️ ⭐️ ⭐️  Decent people, hard come by!
⭐️ ⭐️ ⭐️ ⭐️ ⭐️ Steve and his team have done an amazing job helping me out with my car after an accident and have been extremely helpful! I would definitely recommend them over all the competition! 10/10
---